News
Comprehensive exercise more effective than strengthening exercises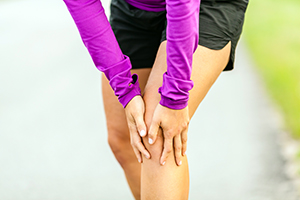 Athletes and females are at a high risk for developing common knee condition
Patellofemoral pain (PFP), which describes pain at the front of the knee, is one of the most common knee disorders in athletes. Females have a higher risk of developing PFP, and up to 10% of young athletes will be diagnosed with it at some point. Weakness of the muscles around the hip increases the chances of developing PFP, and patients who experience it may go on to have future knee problems. It's therefore necessary that PFP patients are treated effectively, and treatment programs generally include exercises to strengthen the hips and thigh muscles (quadriceps); however, new research suggests that a more comprehensive program involving additional components will be more effective. Based on this, a powerful study called a randomized-controlled trial was conducted that compared a more comprehensive program to standard training for women with PFP.
Active female athletes are sought for study
Recreational female athletes with PFP were recruited and screened. This led to 30 patients who were accepted and randomly assigned to either the standard training (ST) or functional stabilization-training (FST) group. Training for both groups took place three times per week for eight weeks. ST consisted of stretching exercises and quadriceps strengthening exercises. FST progressed from first enhancing the motor control of the trunk and hip muscles, to eventually strengthening these muscles, and finally an education segment that instructed patients how to perform certain movements safely. All patients were evaluated before and after the intervention, as well as three months later for pain, physical function and muscle strength.
FST patients experience greater overall improvements
Results showed that both groups improved, but the FST group experienced greater improvements in pain, physical function, and strength of hip and knee muscles after three months. An important component of FST is that the physical therapist provided constant feedback to patients about how to properly align their legs, which may have helped lead to better long-term improvements. These findings show that while quadriceps strengthening alone may be beneficial, a comprehensive training program featuring hip- and knee-strengthening exercises with verbal feedback can lead to greater overall improvements, and should be used to treat female athletes with PFP.
-As reported in the April '14 issue of the
Journal of Orthopaedic & Sports Physical Therapy
October 21, 2015
See News
Disclaimer:
The information in the articles, posts, and newsfeed is intended for informational and educational purposes only and in no way should be taken to be the provision or practice of physical therapy, medical, or professional healthcare advice or services. The information should not be considered complete or exhaustive and should not be used for diagnostic or treatment purposes without first consulting with your physical therapist, occupational therapist, physician or other healthcare provider. The owners of this website accept no responsibility for the misuse of information contained within this website.